In this the third chapter of Developing Youth Work, Mark Smith explores the clusters of key ideas that appear to inform the ways in which youth workers see their tasks. Six broad bodies of customs, thoughts and practices are identified – and the power of tradition explored.
The notion of tradition is still central to appreciating the durability of different forms of youth work. It allows for movement and change while, at the same time, carrying forward some dominant themes and dispositions.
One of the major problems with the chapter is that it doesn't deal adequately with the variety of church-based work that was, and is happening. There are two possible ways of handling the major area of omission. The first would be to simply add another tradition concerned with conversion or, perhaps more accurately, formation. The other would to rework and rename the 'politicizing' tradition to draw out some of the similarities with conversion and formation. I think this might be my preferred solution.
Mark K. Smith
May 2001 
[page 48] Youth work is often portrayed and experienced as ever-changing, yet underlying this seeming movement are powerful continuities. Certain patterns of thinking and practice have existed over time and these can be recognized in apparently new 'work. For example, in the realm of black provision, supplementary schooling shares much with the earlier Sunday Schools; the stress on character and leadership in some approaches would be familiar to Baden Powell; and the consciously political connections made by some of the youth movements link with the early efforts of the Clarion Scouts and Woodcraft Folk. How is it then, that successive generations of youth workers and practitioners, faced with changing economic and social situations, have apparently adopted approaches that contain many elements in common with their predecessors' work?
When looking around for ways of describing or categorizing these apparent patterns in youth work, one typically comes up with 'either/or' distinctions. Examples of this form of distinction would be voluntary/statutory, full-time/part-time and detached/club-based. These may shed some light on the work but they can be seriously misleading and limiting (Hanmer, 1964). For instance, the detached/club-based distinction may tell us something about the initial institutional location of the client group, but beyond that we enter muddy waters. Club workers and detached workers can share the same conception of purpose, adopt the same means of intervention and work with the same target group. While there are differences arising from the relationship of the worker and young people to the setting in which they are operating, such a form of distinction requires serious qualification if it is to mean anything.
Another way of looking at youth work is to categorize its practice [page 49] by the administrative or institutional base of the particular unit or project. Thus, youth work might be labelled as free-standing, school-based, church-based, local education authority, uniformed and so on (see e.g. Brew, 1943; Thomas and Perry, 1975; Garrett, 1986). The significance of breaking down youth work into these categories is that it can point to organizational structures and their associated ideologies. However, it may say very little about the work found in a specific setting, have little meaning to those who work in and use the provision, and it can render fundamental differences concerning the essential purposes of youth work unproblematic.
The major work of categorization in the last decade is that by Butters and Newell (1978). They suggested that, historically, there are three main perspectives in youth work. The first is character building, whose proponents sought to reduce what they saw as a major threat to the values and the society they believed in by the advance of the working class and, in particular, in the behaviour of young people. The thinking behind this approach was that young people could be integrated into society if they were exposed to adequate ideological training. 'If enough character is produced by education and youth work, the mature citizens that emerge will find a way to make institutions of the country run smoothly and humanely' (Butters and Newell, 1978: 41).
The second broad approach, The Social Education Repertoire, is presented as being significantly different from the character-building approach which preceded it. Between the two there is a 'critical break'. Within the repertoire, Butters and Newell suggest three main elements. The first, 'cultural adjustment', is symbolized by the Albemarle Report (HMSO, 1960) and portrays the main job of youth work as being to help young people to become 'healthy' adults rather than to alter society's institutions in order to encourage development. The youth work process is described as the 'non-directive enabling of individuals towards self-realization' (Butters and Newell, 1978: 39). The central concern of the second element, 'community development', is the lack of access of young people to the processes of decision making within the community. This expression, found in the Milson-Fairbairn Report (DES, 1969), although possessing many elements of cultural adjustment, particularly when describing the younger adolescent, did see community involvement as the key issue for the older age range. 'Institutional reform' is the third element and here the main process involves the mobilizing of individuals and groups to work for structural changes and the extension of rights. This approach, it was suggested, has been [page 50] present spasmodically since the 1890s. While there may be differences between these elements, perhaps best illustrated by their perception of the status quo, it could be said that they share a number of qualities that make their incorporation into one overall approach possible. For example, they include the sharing of a respect for liberal humanism, i.e. the belief that intervention is justified if it helps people to live more happily with themselves, each other and society.
The last overall approach is labelled self emancipation. To reach this, another 'critical break' is required because, as Butters and Newell argue, the great majority of young people can only fulfil their potential if they join together in a struggle to overthrow the institutions and ideologies of the dominant classes. In this process, neither the 'harmony' nor the 'happiness' of all members of society can be guaranteed.
Butters and Newell's analysis was a welcome advance in the anti-intellectual climate of youth work but it was, nevertheless, deeply flawed. There is a tension in the writing between a desire to build from the extensive interviews they conducted with practitioners and trainers and a concern for academic legitimation. In the end we are left with something of an illusion — practitioners' views and perceptions are woven into a web that owes rather more to 'grand theory' than to their own concerns. Despite all of Butters and Newell's protestations the model is, in essence, 'top down'. Practitioners' and trainers' views are there as an illustration rather than the base for theory-making. Leigh and Smart put this slightly differently when they suggested that there is no substantial examination of the relationship between youth work practice and the ways that practitioners describe their work — the latter being variously and loosely termed theory, rhetoric or ideology (1985: 92). This leads on to what looks like a major misreading of what practitioners and trainers are saying and a focus on the welfaring, policing and schooling aspects of workers' practice rather than on those aspects directed toward peer-group support and enjoyment. As a consequence, Butter and Newell do not address in any substantial way the dominant forms of practice outside uniformed youth work. In particular, they do not explore in any depth the nature of practice which is here associated with popular youth work. The concern to build on grand theory also leads to the use of language and descriptions that, on the whole, stand only a slim chance of being recognized by practitioners and trainers. Finally, very little justification is given for the use of critical breaks between the social education repertoire and the other forms. Indeed, the Steering Group for this piece of research, questioned the placing of the breaks  [page 51] (Butters and Newell, 1978: 52-3). Yet, what Butters and Newell do provide is a very necessary emphasis on the ideological and cultural nature of youth work and the extent to which this serves the interests of capital. They also give us a glimpse of the possible power of thinking about practice in a way that provides for the subtleties and complexities of everyday youth work, but as a way of naming the work, their analysis is lacking.
Traditions in youth work
To make sense of youth work we must explore the objects, ideas and practices that people make reference to when asked to explain what they think youth work is, and that are alluded to in the normal course of practice. We must examine use, for there are major problems in attempting lexical definition. Many of the elements that may be used to form any definition of youth work are problematic. Aims, the character of organization, processes utilized, client group, nature of the provider, and the form of relationship between user and provider could separately or collectively be used to form a definition. However, a review of current practice labelled and accepted as in some way being 'youth work', reveals an extraordinary range of differences and disputes (Jeffs and Smith, 1988a: 3—7). In a sense, it is more helpful to think of there being different and competing forms of youth work rather than a single youth work with commonly agreed characteristics. Yet youth work came to be recognized as having descriptive meaning and certain forms of practice were excluded from its embrace. This process of constructing and maintaining boundaries is central to an understanding of youth work and the way in which the bargains which inform its operation came to be struck.
A number of bodies of customs, thoughts and practices appear to be important to practitioners when explaining and naming what they do. Initially, these may be thought of as traditions which have been handed down and worked upon. They help provide a model of reality or cognitive map for practitioners. For example, central to popular youth work are those traditions of practice which use social and leisure provision. These may begin from the commonsense position that young people have a need to meet, enjoy themselves and develop their leisure-time interests. However, many of these opportunities in the community are closed to young people because of age, expense or their 'safety'. There may also be a feeling that young people need space to be on their own, away from adults' eyes so that they can take on new roles, engage in new activities and enjoy  [page 52] themselves. In response to these perceived needs, practitioners try to provide places for young people to meet that are appropriately supervised and therefore seen as safe by other adults. They also provide opportunities for young people to develop their interests – to learn to enjoy themselves.
Social and leisure provision, as described here, presents us with a number of distinctive forms and symbols. There are particular conceptions of the worker's role, the direction of the work, what constitutes success, and the types of activity to be undertaken. These are among the constituents of tradition. However, there would appear to be at least two traditions: the first convivial and social and emphasizing atmosphere, and the second, rather more organized and self-consciously active (see Foreman, 1987; Eggleston, 1976).
The former tradition is expressed in a number of practice forms. A good example is the provision of an environment with a free and easy atmosphere a bit like a working men's club or pub. There is the coffee bar with comfortable seating, various machines and pub-type games, such as pool and darts, and music and dancing. As with pubs there may be some team games, especially football, although the emphasis on these will generally be on playing for enjoyment rather than winning. In many respects this tradition connects with what Foster (1977) described as the free-and-easy organizing style of mass working-class sub-culture in the mid-l800s (see Chapter 2).
One of the common ways of judging whether an evening or event has been successful is a recourse to the notion of 'atmosphere'. Workers make a judgement about the general ambience of the group – were people happy, were things 'happening', was there a 'buzz' and so on. This reference to atmosphere and sense of occasion and of things 'happening' is central. When workers talk of enjoyment, particular attitudes and behaviours are prized. First, there is usually a valuing of participation, of 'involvement'. Running alongside this is something of a celebration of community, the sense that young people are members of a group and of a wider society. Thirdly, there is usually an emphasis on friendship and relationships (particularly of the girl meets boy variety). Getting on well with one another also appears to be highly valued by workers. Underlying this is a general belief that people's opinions and needs should be respected, that things should be 'fair'. Finally, safety would seem to be an important consideration. The club, project or unit should seek to provide a non-exploitative and convivial environment in which young people can meet.
A key element in this tradition is the availability of 'sympathetic adults'. The sort of qualities that are valued in this conception are the  [page 53] ability to listen and not to prejudge, a respect for and a valuing of individuals and approachability. One of the common role models is that of friend or surrogate relative. This is perhaps borne of a limited access to different models of the relationship between adults and young people. Workers may 'know' that they are not teachers or social workers but are unable to find enough in the concept of 'youth worker' to explain their role.
The 'leisure'- as against the socially-orientated tradition provides activities in a more structured way. Here the concern may well be about developing people's interests or hobbies or extending their sporting abilities. The focus is not upon personal development in the broad sense, and the enjoyment that flows from the activity may come from the sense of doing something well, or at least better than before. Such an approach can take the form of specialist classes or sessions, or the formation of more focused clubs such as those for fishing, model railways, computing, photography, chess and a variety of sporting interests. Yet as soon as we begin to examine the operation of enthusiast clubs in any depth we find many of the values and practices used to characterize the social tradition. Such communal leisure groups provide (i) a means by which people with common enthusiasms can exchange information, guidance and specialist products, (ii) give opportunities for collective rather than individual projects (such as model railway layouts), and (iii) they:
provide opportunities for making friends and meeting people, suggesting that the substantive activity itself may be of secondary importance. . . . For many organizations this purely social dimension to their existence may not be quite legitimate to discuss openly but may shape their final identity far more than the nature and rules of their ostensible leisure activity. (Bishop and Hoggett, 1986: 33)
Further, within the various sub-cultures associated with the different activities, 'the phrase "pot-hunter" — someone whose sole imperative is to win trophies – appears to be used almost universally… as a form of abuse' (Bishop and Hoggett, 1986: 54). Competitive structures do not necessarily imply a dominance of competitive values. In contrast, it is loyalty, the 'good club wo/man' and the notion of the club as a valued social organization in its own right which is often important. It is these interconnections which allow us to consider these different traditions together.
Butters and Newell, when examining the 'cultural matrix' of the social education repertoire and its 'historical adjuncts' — character building and self-emancipation (the radical paradigm) — failed to [page 54] recognize the importance and distinctiveness of social and leisure provision (1978: 38—46). However, this should not lead us to dismiss automatically the 'cultural matrixes' that they did identify. When these are examined in the context of practice it can be seen that within them are a number of competing and contrasting traditions. For example, it is possible to identify a number of traditions around character-building and these have frequently been manifested in different organizations and practices (Macleod, 1983). But although it is possible to list common elements such as physical exercise and discipline, restraints on sexuality, the encouragement of individual interests, and preparation for responsibility (Butters and Newell, 1978: 41; Roberts et al., 1974), there are major and often bitter differences. Perhaps the best known of these is Baden Powell's criticism of the drill and militarism of the Boys' Brigade (Springhall et. al., 1983).
Within the character-building traditions are a number of strands of practice. A common approach, found in uniformed organizations, involves the provision of a clear hierarchical structure through which people move, and a range of activities and experiences to support the process. Achievement and movement through the organization are expressed in badges and their like. Careful thought is often given to the content of the training. Another strand contains the same emphasis on leadership, clarity of structure and purposeful activity, but does not utilize the trappings of uniform. Here the concern is to create an environment that is caring and in which 'people know where they are'. Leadership will often be 'by example'. It is more club-like and is perhaps most commonly seen in some elements of the Boys' Club movement (Dawes, 1975).
Yet another strand emphasizes collective performance and the building up of skills and attitudes which help that performance. It can be seen in some of the youth work that has a very strong sporting emphasis with a high value put on winning. It is interesting to note here the similarity in language and tone to that adopted by football managers: they often talk of 'character'; there was up until recently a concern to restrict their players' sexual activities before matches; hierarchy is all important (respect for the 'the boss'); and, of course, efforts must be harnessed for the good of the team ('it was a good all round performance')
Similarly, the social education repertoire can be explored, although it may be more helpfully thought of as being concerned with personal and social development (see Chapter 5). In many respects the boundaries that Butters and Newell drew between cultural adjustment, community development and institutional [page 55] reform can be seen to correspond with traditions of practice, although it is highly unlikely that those directly involved in them would name them such. One of the difficulties presumably encountered by Butters and Newell, was the distinction between these forms and those of social and leisure provision. Two immediate differences arise in use. First, there tends to be a focus on enjoyment in the social and leisure traditions, and upon development or improvement in the social and personal development traditions. The former tends to emphasize the present rather more than the latter. In other words, there is a concern that young people can enjoy themselves now, although to do that they have to learn certain rules and behaviours. Secondly, the appeal is made to everyday conceptions, as against professionalized conceptions, of role and theory. In the leisure tradition, as opposed to the social tradition, the developmental aspects will usually take a narrower front, based largely upon competence or involvement in a particular area of activity.
The search for a radical paradigm with its conceptualization of the youth work process as the 'sponsorship of peer-group support by helping sub-cultural groups enquire into their political history' (Butters and Newell, 1978: 39; see also Robins and Cohen, 1978) was the last matrix identified. While this may have been a tidy and logical step in the model, the totality does leave a range of politicized and collective practices outside its bounds. A number of traditions have had as their principal concern the development of people's political understanding, their ability to act politically and the creation of an identity with a particular view of the world and social movement. (M. Smith, 1987). These can be found in some of the activities of the early Co-operative Youth Movement, the Woodcraft Folk and in groups like the Clarion Scouts. In the 1920s and 1930s there was youth work development by political parties using organizations such as the Primrose League (Conservatives) and the Young Socialists. Recently, there have been major developments connected with the Women's and Black Consciousness Movements (Spence, 1988; Popple, 1988) and with political movements in particular communities, e.g. the Bangladeshi youth leagues (Carey and Shukur, 1986).
The nature of the work will very much depend on the way that politics is perceived. For example, those who see politics as being largely about government will tend to emphasize different questions from those who see politics as being about power relationships in society (M. Smith, 1987: 3—9). In recent times it is those with this broader view that have influenced many of the debates within youth [page 56] work. Their desire could be seen as the provision of opportunities and structures in which people can come to understand their personal experiences of oppression as being both personal and political and can, as a consequence, take action both in the way they live their lives and in what has traditionally been seen as the political arena — the political parties, unions and so on. The narrower conception of politics may lead workers to seek to enable young people to campaign around a particular issue such as nuclear disarmament or to value specific political institutions such as the Party.
When the Butters and Newell framework is set alongside practice, two further ensembles of tradition appear to be missing. The first might be characterized as 'welfaring' and makes particular reference to thinking and practice within casework and counselling. Particular groups of young people are hence identified as being 'at risk', 'in trouble', 'deprived' or undergoing personal crisis. The welfaring solution is to provide specialist help to support those people with special needs through their difficulties and periods of crisis (Lawton, 1984; Masterson, 1982). This may take a number of forms, e.g. some agencies may tend to concentrate on a therapeutic approach, while other professional agencies may focus on 'helping'. Here there would appear to be three main concerns. The first is to help people to clarify, understand and act upon their problems. This work can happen in a variety of settings ranging from specialist 'advice' services, through various examples of project work, to clubs. A second aspect is the giving of advice, i.e. an actual opinion on the way that people should act. Thirdly, there is a straightforward giving of information, such as rights under the law, how to claim social security, etc. These last two approaches can be best seen in the work of advice and information centres. A further form that work in this tradition may take is the direct provision of material help in the form of money, meals or accommodation (Grafton, 1979).
Alongside the welfaring ensemble is that of rescue. In many respects it shares a parallel history, flowing in a direct line from the child-savers of the nineteenth century. The language, religious direction and the underlying view of young people and society is remarkably unchanged although, as might be expected, many of the practices have altered. The parallelling of 'welfaring' is hardly surprising given the roots of social work, but while casework gained massively from its courtship with the work of writers such as Freud, the rescuers remained within what could be called a proselytizing framework. Welfaring is primarily professionalized, whereas [page 57] rescuing often assumes the mantle of a moral crusade. People are in need of saving and such judgements are based upon an ideology drawn from a particular social movement, often eligious in nature. The problems faced are then seen not so much as structural, but as personal. The central deficit is often portrayed as emotional or moral (see Wilson, 1985).
Professions, people and movements
In what has been discussed so far we can discern six broad groupings of traditions and these are set out in Fig. 3.1.
Fig. 3.1: Traditions in youth work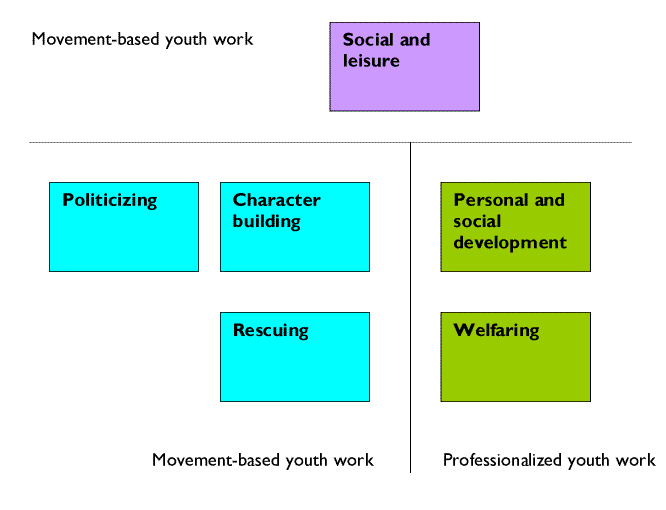 Broadly it can be said that welfaring and personal and social development are largely professional traditions. By this it is meant that they are mainly expounded and practised by occupational groups who [page 58] have attained a dominant position within their particular division of labour. Within advanced capitalist societies, Wilding has argued that the professions fulfil three functions. First, they stand as an expression of state concern for private troubles which have been accepted as public issues. Secondly, their expertise legitimates state action. Elites in capitalist societies have increasingly sought to rationalize and legitimate their control of all sorts of deviant and troublesome elements by consigning them to the attentions of experts. Thus expertise cloaks and legitimizes the exercise of state power. And, thirdly:
the welfare professions provide a rich source of desirable jobs in the public and private sectors for members of elite and middle class groups where such groups can enjoy varying degrees of power, privilege and freedom in their work and, through their efforts, help to maintain the system which supports them in varying degrees of elegance. (Wilding, 1982: 17)
I have kept separate the social and leisure traditions and portrayed them as 'organic youth work'. They have been labelled in this way because such work is largely initiated and undertaken by people who are not steeped in professionalized training and do not have ways of working which are portrayed as being only the property of the specialist. It is rooted in the experiences of everyday life and provides the sort of 'solution' that people have made in a common-sense way over many centuries. Organic youth work is integral to the group producing it and its identity is primarily formed by reference to that immediate group. In terms of our earlier discussion it can be bourgeois or non-bourgeois in its allegiance. For those familiar with Gramsci, such youth workers are similar to 'organic intellectuals' (1971: 14—5) in that they have functions based upon the interests of a fundamental class, but they do not appeal to professionalized forms in the construction of their identity.
In parallel with these forms, lies a range of self-organized communal leisure provision. These groups, organized around particular interests such as hobbies, sports, arts and crafts, are also organic forms and they involve substantial numbers of young people. As mutual aid organizations, their values are markedly different from those within the formal economy. They are:
values of reciprocity and interdependence as opposed to selfinterest, collectivism as opposed to individualism, the importance of loyalty and a sense of 'identity' or 'belonging' as [page 59 ] opposed to the principle of forming ties on the basis of calculation, monetary or otherwise. (Bishop and Hoggett, 1986: 53)
While not wanting to romanticize the situation, much organic youth work can be similarly described and could be considered as an expression of mutual aid, depending upon the significance attached to the differences between the youth of its members and the adultness of its workers.
In recent years there has been a growing professional incursion into this area of social and leisure organization. This has applied to both self-conscious youth provision and to communal leisure organization. The development of municipal discos and dances, full-time youth social centres and sports and leisure centres may be seen as constituting a further tradition of practice, but largely holding markedly different values.
Finally, the character-building, rescuing and politicizing traditions are linked, although they have very different starting points and tend to serve vastly different visions of the status quo. They are bracketed together because all three traditions tend to have strong and explicit links with, and express their identities through, social movements of one kind or another. The term 'social movement' has a wide range of meanings attached to it and it is perhaps best to talk in terms of concrete examples. The political movements that have been of significance include the women's movement, the Black Consciousness movement, the labour and socialist movement and at times movements of the right such as the Fascists. Some youth organizations that could be to some extent located within this tradition have self-consciously taken on the title 'movement', e.g. the Gay Youth Movement (Trenchard and Warren, 1985; Kent-Baguley, 1988) and the Southall Youth Movement (CARF, 1981: 54). The scale of spontaneous, and later organized, developments within character and team building has led to their being movements in their own right, e.g., Scouting, Guiding and the Boys' Brigade.
In addition, it is crucial to recognize the major influence that religious groups have had upon the development of the different traditions of youth work. The connections between some of the nonconformist and evangelical churches and the development of the traditions of character-building and rescuing has already been noted. Within these traditions particular emphasis is placed upon encouraging young people's identity with the host or sponsoring movement. Where it comes to religion, that sense of identity is [page 60] fundamental. Conversion is about changes or adaptations in form, character or function. Religious conversion means adopting particular attitudes, beliefs and behaviours; the movement or church is both a collective expression of belief and a means of sustaining that belief.
Religious groups will often sponsor work in the other ensembles of tradition. In doing so they may well be placing a value on the practical expression of belief or on catering for needs other than spiritual, rather than the desire for conversion or discipleship. Thus, a great deal of work within the social and leisure traditions is sponsored or subsidized by religious groups. Some of it will be directed at providing opportunities for enjoyment and social intercourse for the Sons and daughters of the church, temple, mosque or group members, while some will be aimed at discharging a broader social responsibility that develops out of faith.
Three further points have to be made about the arrangement of the traditions in Fig. 3.1. First, there is a sense in which the professionalized traditions of welfaring, and social and personal development are mirrored by the movement traditions of rescue, and character and team building. The 'pairs' do share some common characteristics, but their placement in professional or movement traditions are the result of very real differences: differences which are often related to the desire within movement-based approaches for young people to make an explicit ideological commitment to the movement itself.
Secondly, the politicizing traditions have been placed on one side because of the contested and marginal position that they have occupied within youth work practice. There has been considerable debate as to whether they can be considered as youth work (M. Smith, 1987: 26—7).
Thirdly, the vast bulk of what we know as youth work would fall into one of the triangle of traditions at the top of the diagram – character building, social and leisure provision, and social and personal development. The central or dominant traditions of non-uniformed youth work are those of social and leisure provision. Within uniformed organizations, such as Scouting, it is possible to find work which appeals both to the notion of 'character-building' and yet uses many of the ideas and methods associated with social and leisure provision and personal and social development. One view of this overlapping might be that youth work has entered a particular historical period, where the dominant model of practice is that of personal and social development or social and leisure provision, and that other models such as that of [page 61] character-building have been pushed to the sidelines. This might be one reading of Butters and Newell (1978). But such a view does not seem tenable as the range of thinking and practice within youth work is extremely wide. As Taylor (1987) has argued, the character-building traditions are not the spent force that some would have us believe. Within Scouting there has been a significant call to 'get back to basics' (Walsh, 1982) and elements of Intermediate Treatment practice, with their emphasis on challenge and character, are very close to these traditions. Such 'overlapping' can be better understood as the powerful reinterpretation of particular character-building traditions. The orientation may have changed, but the symbols forms of expression and organizational structures remain essentially the same.
Traditions, boundaries and change
Traditions give workers a place in the world. Practitioners will share ideas and practices and these in turn will be distinguishable in some significant way from those of other groupings. In this way they may be seen as 'establishing or symbolizing social cohesion or the membership of groups, real or artificial communities' (Hobsbawm, 1984: 9). Other, overlapping types of tradition establish or legitimize institutions, status or relations of authority, or have socialization as their main purpose, i.e. 'the inculcation of beliefs, value systems and conventions of behaviour' (Hobsbawm, 1984).
Both similarity and differences are implied in these traditions. Hence, they express a relational idea, the opposition of one tradition to others or to other social constructions. This places considerable importance upon boundaries – the marking of the beginning and the end of the tradition. These boundaries do indeed constitute critical breaks. The way in which they are marked will depend upon the nature of the tradition. As Cohen has noted, the symbols employed to mark the boundary do more than merely stand for or represent something else:
Indeed if that was all they did, they would be redundant. They also allow those who employ them to supply part of their meaning. . . . Age, life, father, purity, gender, death, doctor are all symbols shared by those who share the same language, or participate in the same symbolic behaviour through which these categories are expressed and marked. But their meanings are not shared in the same way. Each is mediated by the idiosyncratic experience of the individual. (Cohen, 1985: 14; emphasis as in original)
[page 62] Thus, the boundaries between traditions may be understood as being constructed in the minds of their beholders and, as such, may be experienced in very different ways, not only by those on opposing sides of the boundary, but also by those on the same side. The capacity for symbols such as club, character, leader and Christ to have varying meanings attached to them is one source of their strength. Styles of dress, ways of greeting, forms of activity and types of building can be viewed similarly. Their very imprecision as symbols makes for effectiveness as they permit interpretation and provide scope for manoeuvre by those who use them:
Symbols. . . 'express' other things in a way which allow their common form to be retained and shared among the members of a group, whilst not imposing upon these people the constraints of a uniform meaning. Because symbols are malleable in this way, they can be made to 'fit' the circumstances of the individual. (Cohen, 1985: 18)
Yet while meanings may be relatively unspecified, the practices which are symbolized are often compulsory, such as the flag ritual in American schools: 'The crucial element seems to have been the invention of emotionally and symbolically charged signs of club membership rather than the statutes and objects of the club' (Hobsbawm, 1984: 11).
Great care has to be taken when approaching apparently longstanding forms, for while the outward symbol may remain unchanged and accepted, the meanings attached to it alter and can conflict. In this way the notion of 'traditions' helps us to understand why there is so much in youth work that does not appear to have changed significantly, and why practitioners with apparently different perspectives and practices identify with each other. While the form has remained reasonably constant, or at least recognizable, the content can vary. Immediately this is apparent when examining the traditions associated with Scouting. The idea of the 'camp' is particularly strong — the form is familiar over time, as are many of the routines and practices, yet the way in which notions associated with it are understood, such as leadership and challenge, have changed. Here again the notion of boundary is important, for while within particular traditions the complexity of meanings attached to different symbols may to some extent be appreciated, when viewed from the outside the form can beguile the onlooker. Externally a particular youth work tradition will often be explained in terms of a number of simple stereotypes.
At times of change, when 'everything that may have been stable is [page 63] caught up into transformation and development; [and] all that is solid. . . melts into air' (Wright, 1985: 16), traditions are an anchor. Indeed, when groupings such as those involved in youth work turn to 'history' or stress tradition, this is often indicative of dislocation and anxieties about change. In this respect, it should not be forgotten that many traditions are not simply handed down but are actually invented. In Scouting we have a clear example of this process as Baden Powell strove to establish traditions of ritual and ceremony.
Traditions provide stability and legitimacy. However, they are also invoked to justify change. Thus, in many of the papers and reports that have argued for the development of work with young women and girls, for example, great play has been made of the long-established 'tradition' of single-sex work and its achievements, even though much of the invoked 'tradition' was directed at the domestication of young women. In other words, the past is selectively invoked and constructed in order to articulate contemporary concerns. The use of traditions in this way, in part, accounts for their relative permanence: they are kept alive and refreshed by the innovations practitioners make. At club or unit level, traditions can become established over quite a short period of time. They may take the form of stories that are recounted in order to explain why things are done or should be done in a particular way. Alternatively, tradition may be manifested in the procedures that have to be followed, i.e. 'this is the way things are done here'.
In each tradition there is an appeal to different sources for the legitimation of practice and a resort to different forms of theory and models concerning the worker's role. Traditions offer a broad range of ideas, institutions and customs. Practitioners therefore have to look elsewhere for further 'explanations' of the things they should do. Youth work's marginal position, lying as it does on the boundaries of a number of activities, means that it is possible for workers to draw upon a significant range of theories from other areas about the practitioner's role and purpose. This is not helped by the lack of theory making within youth work itself. What is apparent, is that within and across traditions, workers appeal to different bodies of theory to explain their practice. They use examples and dispositions which transcend youth work. This, added to the malleability of symbols, allows workers with seemingly conflicting orientations to be located in the same tradition.
Some people operating within the character-building traditions may see themselves as educators, some of those within the politicizing traditions as proselytizers, and so on. For this reason it is sometimes difficult to distinguish between different examples of [page 64] practice. In the end it is likely that individuals will find their identity as practitioners through a particular tradition and the utilization of specific symbols. In this way the traditions are important, but so are the transcending influences which contribute to the range of meanings attached to any one symbol within a tradition. By pointing to the nature of the contact that workers have with the people they work with, the symbols and values they might draw upon when intervening and what are the conditions prevalent, we can begin to see how traditions may interact with other aspects of the youth work process, and how everyday necessities can dispose workers to particular systems of thought.
In conclusion
In this chapter I have tried to develop a system for the naming of the different strands of youth work practice and thinking which reflect the experiences of workers. These ways of seeing and acting in the world of youth work — characterized as traditions — will be recognizable to those that manage and sponsor the work and those that make use of it. However, as recognizable as these traditions may be, they will not necessarily name the way that young people or sponsors see things. What they do help explain is the apparent continuity of youth work and the way in which workers may, at times, make an appeal to the same bodies of theory and practice and yet set themselves apart. They also show how people with apparently very different practices and understandings see themselves as connected.
What this tentative categorization also achieves, is the proper recognition of the social and leisure traditions and their central place in youth work practice and thinking. These traditions have tended to become buried in some representations, and stereotyped and dismissed in others. They are the dominant traditions in youth work and deserve careful consideration, for they possess a number of features which make them an important focus when considering the shape of future practice.
References
Consult the full bibliography
© Mark Smith 1988
Reproduced from Developing Youth Work. Informal education, mutual aid and popular practice, Milton: Keynes: Open University Press.
First placed in the Archives in April 2001. Refreshed July 2019
Click to return to the contents page
Last Updated on July 5, 2019 by infed.org